I got a horse! Yay!
by Brittany
(Manitowoc WI)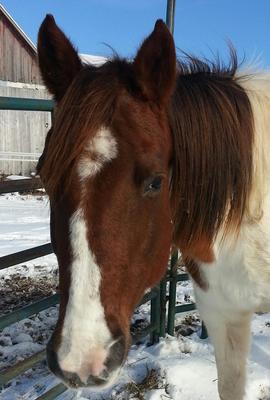 I just got a horse! Her name is Shawnee! She is a grade pinto mare. She is really sweet and we are bringing her home (hopefully) Sunday after we get back from the dells. She is the sweetest thing and has some attitude, but not a deadhead. She has things she likes and things that she doesn't like. Just like me!

She is a really fast learner! And is so smart. The first time she saw a hay-bag, she took off and was bucking and kicking! She was really funny. Then she calmed down and figured it out and ate from it as though she had always eaten out of a hay-bag.

She settled in at my trainer's place like she has been there before! I can't say enough nice things about her! She is sweet and adorable. She is a real lover! She loves to be petted.

This is what my cousin tanner made up........

Sweet
happy/hopeful
awesome
wonderful
nice
easy going
elegant

All those things really describes her! I can't wait to bring her home! I really cant! I hope to shoe her in fair next summer! She might be ready and might not. I am hopefully going to work with her over the summer.

That's it for now! If you have any tips about owning a horse (first time) let me know!