Horse Farm Life
by Hallie
(Jefferson City, MO USA)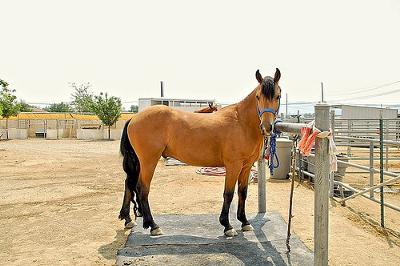 Rockie
Hi! My name is Hallie. I live on a horse farm in Missouri. We actually own 17. Currently we have 27 up for sale and 17 foals.

As a 3 yr old, I had always wanted a horse. My parents new that I would grow up to ride horses because my first sentence was " Look at all the pretty horses Mommy! "

I am now 15. I own 7 of our 17 horses. I have 2 Fresians, one's a mare. Her name is Belle. The other is a gelding named Fire and Ice. ( I have posted pictures of them in the picture section. Look up My Fresians.)

I have an American Quarter Horse named Ace. I have 3 Mustangs. Marie, Rockie, and Goofy. And my Tennessee Walking Horse Sprinter. I love them all.