Girls and their Horses
by Christina
(United States)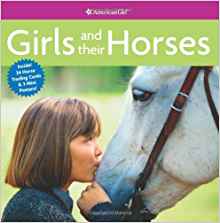 The cover of the book Girls and their Horses from American Girl. It shows a girl with short brown hair in a jean jacket kissing a grey horses muzzle. The horse is wearing a brown western bridle. At the top of the book is a pink stripe the has the American Girl logo in white lettering. Below that in a green stripe is the title of the book in white lettering, then it is the image. On the left below the title of the book is a blue circle with white lettering that you can't read.
This page contains links that may earn a commission.
This is a great book!
It gives you an inside look on what it's really like to work with horses. You learn about all the special rewards that come from working with horses. You also learn about all the hard work that working with horses brings (like mucking out.)
You read profiles of girls that work with horses in very different ways. For instance there are girls who ride in rodeos. There is also a girl who takes care of miniature horses. There is even a profile of a vaulter (someone who does gymnastics on HORSEBACK!) This book even comes with horse trading cards!
I hope you'll read it soon!