Gathering Storm - Part 2
by Abbie (Reese)
(Colorado, USA)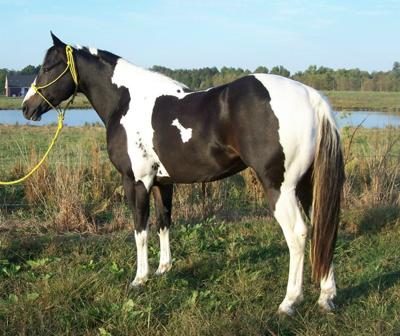 Gathering Storm
Reese cautiously slipped out of bed, stepping on silent feet toward the window. Throwing the curtains back, she gasped and stepped back in alarm. Standing in a pool of silver moonlight was a stunning pinto stallion. His white mane flashed magically, his whinny a deep, handsome bellow. He was the most beautiful horse Reese had ever seen, besides Silverdust. She felt a pang of sorrow in her heart, but she pushed it away. Suddenly, the piebald spoke to her.

"Hello. Do not be afraid of me! Silverdust has told me about you. She is still alive! The doctor who took her away lied to you. She is the notorious Jadius, queen of the darker ages. She kidnaps magical horses like Silverdust and myself, greedily using their powers. Hurry! We must save her before...before it's to late."

"What? She's still alive? What do you mean?" Reese replied, hardly daring to believe her ears.

"If we don't rescue her, she will die. Climb onto my back; there is no time! By the way, my name is Gathering Storm." he hastily added.

"But why didn't she tell me?" asked Reese, stepping lightly onto his back.

"She was probably trying to protect you; if you had know, Jadius would hurt you trying to take her away. Now hang on tight!" quickly, he galloped into the air. A magical silver mist surrounded them, enveloping them in a hazy sort of cloud. Clutching tight to his mane, Reese leaned forward over his withers. His smooth black and white coat bunched as he galloped along at a blinding pace. Finally, Reese spoke again, but to her surprise she didn't have to shout to be heard over the wind.

"Where are we going, Stormy?"

Gathering Storm groaned good-naturedly, then whinnied back, "Don't call me Stormy! So undignified! Anyway, we are going to the Land of Fire and Ice, Jadius's realm. There, she will be preparing to steal Silverdust's powers. We may have a chance to save her there." Suddenly, he alighted ipon a barren, desolate land. The realm of Jadius.
******************

Okay, here's the second part! What do you think of it?