Fire Light
by Mackenzie
(TX)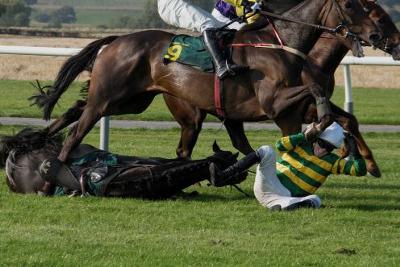 See that horse on the ground up there. Yah. Thats me, Fire Light. I don't look so good. But I'm getting ahead of myself. So one summer morning I was with my jockey, Edward. We were practicing for the big race on Saturday. We had gone up against the greatest of the great.

On Friday night I stirred in my stall waiting for the race to come. Finally It came. They loaded me into the trailer. My head held high and my tail out. Into the gait at the start. One, two, three. DDDIIINNNGGG!

The bell sounded. Out I went. Dead last. Edward and I have a plan. We give the horses upfront some confidence. Then we rip it away. But this time I tripped. Down came Edward and me. The pain was fierce in my right front leg. A shill whinny came out of me as I came down. Edward let out a call for help. He wasn't calling for himself , but for me. I was sent to the finest vet in the world. My right front leg was broken. They said the bill was high but Edward didn't care.

He refused to put me down. He was with me at all times as my leg slowly mended. In the proses I got very sick it was hard to breath as the sickness constricted my lungs. I was glad Edward could be with me. I more weak every day. M y leg had healed but not my sickness. The doctors tended for me but it wasn't the same as Edward. I heard him pray over me to get well. My throat was sore and my breathing didn't improve.

Finally the day came when I knew I was going to die. I think Edward did too. When I felt it coming the edge of life. The burning fire within me died out and so did I.