*Country Horsegirl's Horse Lover Page *
by Danielle
(USA)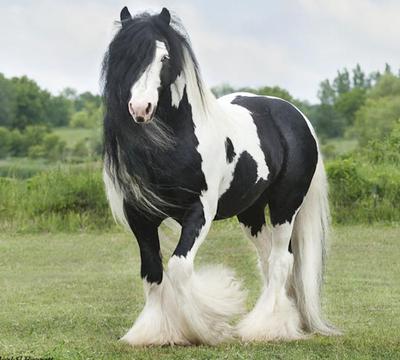 I LOVE gypsie vanners!
I LOVE horses! I love wolves too! Mostly horses! I trail ride all 4 gaits at a place called Scooner Valley Stables. It is really fun! Just make sure your stirrups feel good because the first time I went my foot kept slipping out because the right stirrup was longer then the other.

So I was like bouncing around trying to get my foot back in there! You get to stop at a little stream and let your horse get a drink. If you haven't galloped much before it is a little scary at first! But you just hold o and wait till you slow down! Country girls grip and ride, city girls slip and slide! I love to play a horse game called Howrse on the computer!

My favorite horse breed is the gypsie vanner and I like the Marwari too! My favorite time to ride horses is in the winter. The horses look so beautiful in the white sparkly thick snow! I take riding lessons at S and H Stables in Indiana! It is so fun! I am up to cantering! I have been on a horse that bucked twice but I went to 2-point and held onto it's mane.

The horse will canter really nicely around the arena just she doesn't like to on the lunge rope! That's when she bucked! I don't have my own horse yet but my mom said I should have a horse by when I'm 15 years old. I can't wait! My second grade teacher owns a horse farm. She doesn't own the horses she just boards them. She owns one of them though! She is my favorite teacher!