Chosen by a Horse
by Taylor
(Pennsylvania)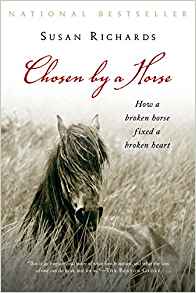 The cover of the book Chosen by a Horse. It has National Bestseller at the top in grey lettering then Susan Richards below that in black lettering and then Chosen by a Horse below that in red lettering. Below horse in black lettering are the words How a broken horse fixed a broken heart. The image on the cover shows a black and white image of a horse in a field with tall grass. At the bottom is something that can't be read in white lettering.
This page contains links that may earn a commission.
It's about a broken Horse, who fixed a broken heart. Susan thought she was rescuing an abused, abandoned horse, but the horse ended up rescuing her...