Buddy & Buddy - The Short Story
by Aspen
(WY, USA)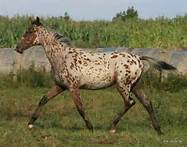 Buddy the 2nd
This is the first part, it tells a cute story. You can find parts 2 to 6 in the comments section.

Buddy & Buddy were two young untamed stallions. Buddy the 2nd was the wild one. He was the one to get in trouble, was the one to take name and leave you in the dirt. He would want to fight any stallion old or young and would run side-to-side challenging the older stallion for a fight. If only he knew what was ahead...

Buddy the 2nd was about 2 1/2 maybe 3. He was an adult but he didn't know that. He ran wild and chased the wind not worrying about one thing. One day his mother called him to the herd.

"Buddy..." She said in a kind voice
"What is it mother?"
His mother Annabelle smiled. There is a stallion from far away. I said he could come and meet my little boy and me." She whinnied.

"What is his name and where is he from?"

"His name is Tom & he came from Australia, and..." Annabelle said but got cut off by Buddy.

"Wait a minute! You aren't going to let him live here? In our herd... are you?"

"Yes son. He has a son, about you're age whose name is going to shock you." Annabelle smiled shortly.

Buddy looked at her. "Buddy is also his name. He 1 1/2 years old and needs a good home." Annabelle told her son.

Parts 2 to 6 are in the comments section! Feel free to comment!