Brittany + Shawnee = love forever!
by Brittany
(Manitowoc WI)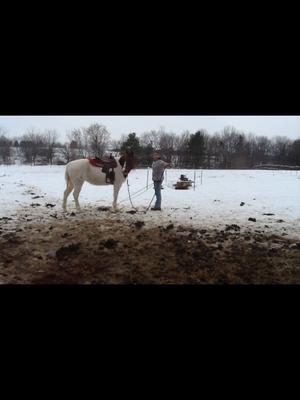 Me lunging shawnee
For as long as I can remember I have wanted a horse of my own. After about 6 years of begging, my mom and dad finally said yes!

I started by looking on the Internet and found some that would work and we looked at them, but they didn't seem right. I thought it would be easy to find a horse, but is was not! If took forever to find the right one.

Finally I found what seemed to be the right one! The ad said: 'nice paint mare. Great on the trail and has been shown in the past. Loves kids and would be great for a beginner! $1300.'

She was perfect! She is just what I wanted! The picture of her showed a sorrel paint with a star and a snip. The only sorrel on her was on her neck. She was gorgeous!

I was so excited when we drove up the driveway. I couldn't wait to see her!

Then we parked the car and went to the barn. There was the owner and she had a halter in their hand. She said "come with me. I will got Sawnee." Shawnee. I thought. What a cool name! Then I saw Her! She was beautiful! I wanted her. I looked into her dark brown eye and saw love. Then the woman brought her back to the barn and got her tacked up. She let me brush her and then I put on my helmet and mounted up.

She was perfect! I thought. Then the ride was done and I dismounted. I wanted to ride into the sunset! She was AWESOME! Then the parents talked about horse stuff and I hung out with Shawnee. She was so sweet! Then it was time to go. :( I said buy and then we left. All the way home I felt like a part of me was restored! I just had to have her! I thought. Then we got home and i went to my room and drew a picture of me ans Shawnee.

It is now a month later and she is in my backyard. I love her to death! She is my baby!