Best Ever!
by Elisabeth
(Sagle, Idaho)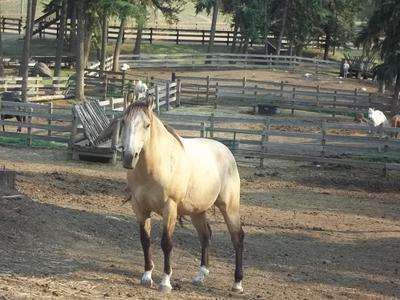 This is Zues. He is an eight year old buckskin.
My horse life began in 2006. I was four years old and my dad worked at a camp as water front director. But my best friends were the wranglers. I did pony rides every day that I could because the rule was I could ride by myself until I was eight. Now that was upsetting! So when I was seven, even if I was still to young, I went on trail rides. They let me. But I was aloud to as long as I kept my age a secret. Didn't do very well. Any way,I loved horses.

When I was eleven, I "worked" up at the horse barn for two days a week. Well, really I helped. I wasn't being paid. But on the last day, one of the wranglers(my best friend Erika A.),taught me how to lope. It was scary, awesome, and fun. She was awesome. Next, after I can lope pretty good, I want to be in the rodeo they do every week. Also I want to jump.

When I was helping up there, I got to watch her train Zues. Zues is really her horse but he's really gentle. And Stormy her other horse, I got to ride. Laural, is another wrangler. She's my second best friend, loved Stormy. But, so do I. She's beautiful. Especially when she lopes. Her mane and tail fly back and she's gorgeous.

I'll keep updating more about my horse experiences. They'll all be under Best Ever! so don't be afraid to try new things. they turn out to be awesome!!!!