A story from a horse's heart - Part 1 PLEASE COMMENT!!!!
by Doree
(Canada)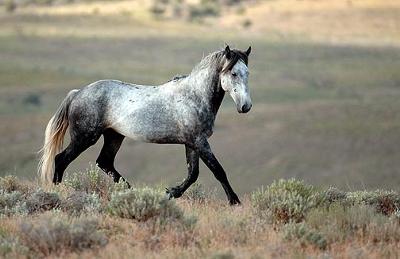 Katrina
My name is Katrina; I am lead mare in my heard. I am fast as the wind and as strong as the lightning. I am beautiful; I have the body of a champion. This is my story....

I lift my muzzle to the air. The smell of the two-legged's grew closer. The sound of other horses running at a gallop also came closer. I snort, throwing up my head up angrily. These things had no right to run after me and my herd! Griffin threw up his head in annoyance. He was the stallion of this herd. He heard the noises too. The colts and fillies clung to their mom's in fear. I nickered softly at one of the little fillies, Quinn. "hiyaya! Lets get'em!" yelled out the tow legged. Griffin whinnied loudly and we all start off, galloping towards safety. They were gaining on us. Griffin neighed loudly and fiercely. I?m scared. My whole dapple gray body shook beside Griffin?s perfectly calm dun body. Soon enough, the two legged and their horses sounded far away. No more then a whisper now. Griffin leads us up to a cave, out of the now down pureeing rain. I whicker softly at Griffin; he nudges me calmly, and then puts his head on my hind quarters. I sigh; those two leggeds hopefully, would never come back?

I am awaken by a sound outside. The two leggeds, their back! I nudge Griffin from his sleep. His eyes wide, and ears pricked forward, he steps out to investigate. We here a shout. ?Hey their up in that cave!? Griffin shakes his head in frustration. ?These things have been following us forever.? He whinnies at me. I stare at him. I nicker softly back at him, ?what are we suppose to do now Griffin?? He answers by saying, ?leave.? I snort. I don?t want to leave! This is my home land! But I know in my heart, it?s our only choice. We go through the other exit, after waking the others. I keep them quit. We leave the cave areas and start galloping towards our freedom. All of a sudden we hear hoofbeats behind us.
I glance behind and see 3 two leggeds Galloping towards us. The horses they were riding shoot all of us sorry looks. I thrust up my head and call out to Griffin. ?I will lead them away and come back.? I call out. He keeps on running, saying nothing. I notice they have almost gained on Willa, the youngest filly. I let out a scream of protest, I fall behind turning around, and leading the two legged behind me. I call back to my herd. ?I will be back! Do not stop!?