A Mustang in a World of First Borns
by Jordan
(IL)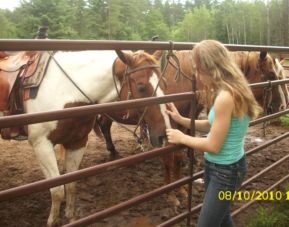 When I was about 3 or 4, I thought a horse was some type of vegetable. But, when I hit the age of 5 or 6, my cousin and I were HORSE CRAZY!

Since I was 1 years old my family has been going up to Madison, Wisconsin (longest drive ever!) and my cousin and I would always talk about horses, play with our horses, watch movies with horses... etc. Anyway we just loved horses to death.

I always go horseback riding when I have the chance. I don't actually have a horse, but I have made friends with a lot of horses. My favorite thing to do is canter, it is sooo.... fun! The first time I ever did it I was just cracking up. I have never galloped before, but I hope to sometime.

When my grandma was a little girl her father bought her two ponies, tipsy, and I can't remember the other ones name. Whenever she rode tipsy, he would walk about three feet, then he would just roll over and tip you off! ha ha ha!

My grandma always takes me horseback riding, I've taken tons of lessons. I have also done a lot of trail riding in Wisconsin.

My favorite type of horse is a mustang. I love them because there free spirited, and crazy. I can relate to mustangs because, I'm a second born drowning in a world of first borns. My brother, mom, and dad, are all first borns. Oh and my cousin is too. I'm the only one in my family that likes to have fun, but I love my family anyway.

I would always dream of living out in Wyoming and have a huge ranch with tons of horses. Now that I'm older I realize that I was kinda fantasizing a little too much there. So, now my practical dream is to live out somewhere in the country of Illinois or Indiana and own a few horses.

Sometimes it can be hard for me because I'm older now and I am opened to a world of different things. A lot of times I forget about horses, but I always jump right back on the saddle again, because inside me I will always, forever be in love with horses.