A Horse On The Run
by horses4friends
(NC)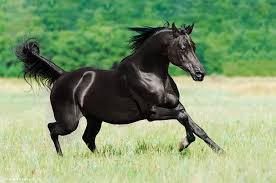 Starlight (Darcy)
Part One
Hi! My name is Darcy, my old name used to be Starlight, but that is in the past. I'm a night black Arabian mare. My story started in a great home, until I got sold at the age of three. So let's skip ahead to where I say the story starts, on an icy, windy cold day, where my new awful owner was trying to ride me in the indoor arena.
"Starlight! Put your head down! I'm going to ride you whether you like it or not!" My master jerked my halter, which made me rear, terrified. "Now!" He jerked my head down again and thrust an icy cold bit in my mouth.
I looked around me for an escape, but there was only the white-washed walls surrounding me. He threw my saddle on roughly, which of course, I bucked. Then he tightened the girth way too tight and mounted, kicking me in the sides. I bolted, then he jerked on the reins, what did this man want me to do? Stop or go?
When he returned me back to the stall an hour later, I was covered in sweat and shaking with cold. Then I heard a voice in the stall next to me said, "You really don't like that man, do you? So why are you so kind to him? I've only been here a day, and I know I don't like him."
I threw my head, startled, "Who are you and when did you get here? You certainly weren't here this morning." I turned and stared over the stable barrier, and saw this cute little strawberry roan gelding, glaring up at me. I almost laughed.
"I'm Sunny and I came from another mean home, but before, I was wild." The horse named Sunny said.
"Wild?" I stared at Sunny.
"Yeah, and this place is a mud puddle compared to the wild. Man, I just want to kick that..." Sunny kept on talking and I thought, what a fiery little mustang, huh, well he sure has spunk, "hey are you listening to me?" Sunny asked. "Horses around here just don't care for a good conversation," Sunny said to himself.
"Sorry, but I was just wondering what YOU were going to go to help us escape. There really isn't a chance of escape anyway, I'm always in my stall!" I said, exasperated.
"Welllll, when do you want to escape?" Sunny asked, curiously.
"As soon as possible!" I snorted.
"Then where does the man go around now?"
I shook my head, what difference did it make where the man was? "He rides the other horses, training them."
"Well, then, let's leave right now!" Sunny said, "Hey, watch this!" Then he lipped the bolt of his stall. Suddenly, he pushed the gate open and was free!
"How did you do that!?" I cried, surprised.
"I learned how." Sunny said simply. "Now let's go!" He had lipped my gate open and now I pushed the gate open, free! Then I just stood there, not knowing what to do until I heard the man yelling,
"Hey! What are you doing out! Get back here!" Then I started trotting away.
"Darcy! Run!" Sunny screamed next to me then we both bolted across the field and toward the woods. We had escaped! We galloped together in the dusk, me not knowing what I was heading into.
When we finally slowed down it was pitch black outside. I thought back and suddenly asked, "Hey, did you call me Darcy?"