A Gleam of White Through The Darkness - Part 1
by Melissa
(London, England)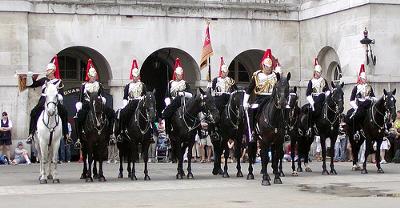 Members of the Horse guards in London England
I watched in awe as Members Of The Horse Guards rode down the streets in London England. The beautiful black horse's muscles rippled under their glossy coats. Their heavy hooves in perfect rhythm, the noise was amazing. The guards carried their swords over their shoulders, and kept their eyes locked on the horse in front of them.

"Mother, I want to ride with them!" I exclaimed pointing at the men and woman. The parade was almost over to where me and mother were standing, and leading in the front, was a man, on a huge white horse. He held his head high, as a cry of joy rippled through the crowd. He, however, kept his eyes locked on the road, as they rode slowly down the street. This was my brother, Blake.

Blake was 21, and a member of The Horse Guards. His horse's name was A Gleam Of White.

Suddenly, a shot sounded through the air, and the straight, perfect line of horses was broken apart. The horses were frantic! They were rearing and grunting and bucking, as another shot sounded through the air. A 3 one followed shortly after, and a horse collapsed on the ground, crushing his rider. Men and woman from the crowd leaped over the barricades, and ran to his aide. His horse had been shot. Again, a shot sounded, this time striking a black horse's rider in the arm. the rider slumped in the saddle and fell to the ground. I watched my eyes wide with fear, as My brothers horse reared up.

Blake jumped form the saddle, and grabbed the reigns of A Gleam of White, and tried to hold him steady. The horse reared and pawed the air. Suddenly, Blake fell to the ground, and his horse bolted forward, his hind legs fell hard on Blake's Chest, and he lay still.

"BLAKE!" My mother and I screamed simultaneously. We watched helplessly as the paramedics ran to his aid.

"Will he be okay?" Mom asked frantically as we entered the hospital room. The walls were a creamy white. Blake was in the hospital bed with all sorts of tubes going in and out of him. He had a large, thick wooden splint around his chest, and half of his head was wrapped in ace bandages.

"The horse collapsed all his ribs, and basically crushed his heart. He also struck him in both temples, therefore he has major bleeding in the brain." The doctor sounded negative. Too Negative.

I leaned over the bed, and held my brother's cold hand. "I'll miss you Blake." I murmured looking at his pale bandaged face.

A sudden long shrill beep filled the room, and my mother hid her face. "He's...Gone." I whispered. I stood up and hugged my sobbing mom, and together we left the room.
**********

Part 2 won't be so depressing. Sorry! But look for part two! Please do!