CoSchedule Review
Social media is really important if you are growing a business online. But as a teenpreneur trying to juggle school, a business and make time for horseback riding, I've got a lot on my plate. And one thing I've been trying to get better at is increasing my social media presence. I've managed to build a good following on Pinterest and it's growing (and I'm kind of obsessed with it at times); and I am making good progress with Instagram.
But it can be really, really hard to keep up! Especially when I have exams, or horse shows, or life just gets busy.  
That's why I am so excited about a service I've found called CoSchedule. (You can try CoSchedule free; this is my referral link if you decide to check it out.)
I've recently started using it and it looks like it is going to make it sooooo easy to do so many things I have been wanting to do for a long time!
A lot of people use CoSchedule with their Wordpress websites but I don't have a Wordpress site; my site is built and hosted with SiteSell. No worries!
I can still use all of the social media scheduling tools that CoSchedule offers.
Here's a few of the features I am most excited about:
One Place for Everything
Depending on the plan you choose you can link 5, 10 or 25 social profiles. The 5 plan is perfect for me right now since I'm just focusing on a few platforms for now but I can definitely see myself upgrading as I grow. In addition, one of my goals is to get really good with social media marketing so I can offer it as a service to clients and I can see CoSchedule could be the perfect way to do that!
Schedule Once
Everything you read in internet marketing says you need to spend something like 10-20% of your time creating content and 80-90% of your time promoting it.
CoSchedule lets you create social campaigns for your content when you publish it so you know it will be promoted effectively. For example, when I launch a new contest, I can schedule promotions every day for a specific number of days on each of my social platforms.
Or when I publish a new page I can plan out social promotions for as far out as I like. That's really cool because how often do we neglect perfectly good pages on our site because we got busy with something else? Ummmm…all the time.
So for example I recently published a page with this gorgeous free horse coloring page by teen artist Cameron Brusoe. CoSchedule lets me create social promotions over time so girls will get reminded about that page in a month, two months, a year etc. It's a great page and there's no reason I shouldn't let new visitors know about it in the future. This will help make that super easy.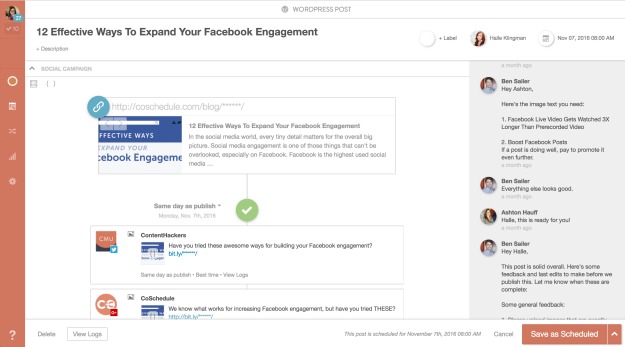 Amazing Education
Those of you who follow my site know I think that teens should be learning about programming, technology and how to building websites in school. (Seriously. Why don't they make that a requirement?) That's why I've really liked building my site with Sitesell, because it's not just about building a website, it's about education that teaches you about long-term online success. (Over 26,000 girls from around the world visit this site each month – I think it's working!)
Coschedule's education is just awesome. When you first start an account—you can start on a free trial, by the way, and here's my referral link to CoSchedule to give it a try; I hope you'll use it if you try it—you will get a step-by-step checklist of things to do so you understand how to use it. I love that!
Then anytime you want to do something new there are videos that walk you through it. They have great webinars and customer support is really, really good. I know because I asked them for help and they went above and beyond.
Watch This Video To Learn More
CoSchedule from Garrett Moon on Vimeo.
I have used Hootsuite in the past and it's a good service but I feel like this is going to be more of a complete business building tool for me.
So give it a try and tell me what you think. I think it's going to be my go-to tool for taking HorseCrazyGirls to the next level.