Pictures of Horses
Here are adorable pictures of horse shared by horsecrazy girls like you! Click on each photo to learn more about that horse!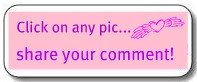 Click to see more horse photos
Visit our horse pictures gallery!
Are you horse crazy? Join our free horse club!
Fun
horse games
and lots more!
By
Sydney
, Copyright 2007-2016 All Rights Reserved