More Horse drawings and a Cowboy
by Aspen
(WY, USA)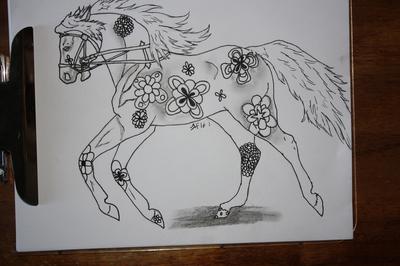 12/2/2016
Hi everyone! Merry early horse-y Christmas!

Drawing #1 (pen): A zen-tangle/zen-doodle, literally I don't know the difference, I think they're the same. I think it's beautiful! Please comment below

Drawing #2 (pen): The Zen-Tangle horse, I think it's good enough to be in a coloring book, but one of those detailed books.. oh, a dream come true! :P

Drawing #3 (pen): Now this one is actually really cute. It's of a Breyer horse I have called Tommy Joe and his friend Junior the Zebra. I would love to hear what you all have to say down below! :D

Drawing #4 (charcoal/pencil): This one isn't a horse, but who rides a horse? Yeppers, a cowboy! I would do a cowgirl but instead I chose to do this old, weathered cowboy. I wanted to add lots of detail and personality with all the wrinkles and lines throughout his face. Please feel free to comment!